"Hardly ever have I known another man in whom mercy and desire for beauty are
connected that ideal as in Albert Schweitzer."
Excerpt from Albert Einstein's contribution to the birthday anthology to the 80th birthday of Albert Schweitzer, 1954

Short life history: Albert Schweitzer
* January 14, 1875 Kaysersberg (Alsace), † September 4, 1965 Lambaréné (Gabun, West Africa)
Albert Schweitzer was born as the second child of a priest's family in Kaysersberg. Some months after his birth the family moved to Guensbach where Albert's father worked as a priest until his death. Albert attended elementary school there, followed by secondary school in Muenster and college in Muehlhausen. On June 18, 1893 he made his A-levels there. As a child he received a very good musical education which became the basis for his later magnificent organ playing.
From 1893 to 1898 he studied theology and philosophy in Strasbourg, Paris and Berlin. His time of study was interrupted for a year in 1894, as he had to do his military service. From October 1898 on he had music lessons (organ, piano) with Charles Marie Widor (1844–1937) in Paris. It was also Widor who made Schweitzer newly interpret Bach's organ work. In 1899 he graduated from university in philosophy and in 1900 in theology. In 1902 he qualified as university lecturer in theology in Strasbourg where he afterwards worked as a private teacher. From 1903 to 1906 he was head of the monastery St. Thomas in Strasbourg.
In 1905, at the age of 30, he decided to study medicine; he wanted to become a mission doctor. In November 1911 he finished his studies successfully and in June 1912 he married Helene Bresslau. In February 1913 he graduated from university in medicine. Shortly after that he went to Africa with his wife to the small jungle place called Lambaréné and built there a tropical hospital with a station for Hansen's disease which he paid for on his own. It was his aim to alleviate the illness and misery of the people living there. The hospital was financed by donations and Schweitzer's publications, speeches and organ concerts in Europe. During one of his journeys he was interned by the French in 1917 due to World War I. In January 1919 his daughter Rhena was born. Only in 1924 was he able to return to Lambaréné. Schweitzer decided to build a new, bigger hospital because the old one was too small. The new one was commissioned in January 1927 near the old one. It is still there today. In this hospital Schweitzer worked, except for a few interruptions, until his death.
Albert Schweitzer published basic works concerning theology, religious philosophy and history of music. He was an excellent organ player and a magnificent expert and interpreter of Johann Sebastian Bach (1685–1750).
In the course of his life he received numerous awards, prices and honorary promotions worldwide, eg in 1928 the Goethepreis of the city Frankfurt on the Main, in 1951 the Friedenspreis des Deutschen Buchhandels, the Nobel Prize for Peace for the year 1952 and he was bearer of the Ordens Pour le mérite.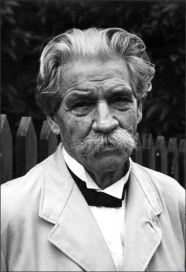 Albert Schweitzer continuously reached for truth, peace, freedom and humanity. He fought for prosecuted and threatened people and again and again spoke out loudly against the lunacy of arms race and against the danger of atomic wars.
Albert Schweitzer died at the age of 90 on September 4, 1965. He is buried in Lambaréné, directly next to his wife, who had died in June 1957.
Illustrations Credits:
Courtesy of the Deutsches Albert-Schweitzer-Zentrum , Frankfurt on the Main