"I know very well what a talented physician our Albertle is."
Einstein's cousin Elsa in a conversation with Philipp Frank, about 1917
Short life history: Elsa Einstein
* January 18, 1876 Hechingen, † December 20, 1936 Princeton, New Jersey, USA
Elsa, the daughter of Rudolf Einstein and Fanny Koch, was born in Hechingen (Schloßstraße 16) in January 1876. She had two sisters; Paula and Hermine. Rudolf Einstein was a textile manufacturer in Hechingen.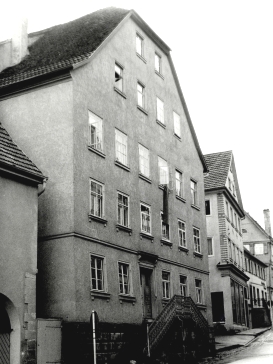 During the regular visits with the family in Munich she often played with her cousin Albert Einstein (1879–1955) who was to revolutionize physics with his pioneering works (1905). In her Swabian dialect she called him "Albertle". After Albert Einstein had left Germany in 1894 to follow his family to Milan, their ways parted. Nothing is known today about Elsa's education in Hechingen.
In 1896 Elsa married the textile trader Max Loewenthal (1864–1914) from Berlin. They lived with their daughters Ilse (1897–1934) and Margot (1899–1986) in Hechingen. In 1902 Max Loewenthal went to Berlin due to job-related reasons. His family stayed in Hechingen. Their son was born in 1903, but died shortly after his birth.
In 1908 Elsa was divorced from her husband and went with her two daughters to Berlin to Haberlandstrasse 5. In Berlin began her relationship with Albert Einstein about 1912. In June 1919 Elsa married her cousin "Albertle". Ilse and Margot, now Albert Einstein's stepdaughters, lived with them.
Elsa's main concern during her marriage was to take care of her world famous husband, to protect him from the annoying intrusiveness of the outside world. She accompanied him on his many journeys and enjoyed it when she saw that he was given admiration and respect. In 1929 she was the driving force when building their summer house in Caputh near Potsdam.
In 1933 Albert Einstein emigrated with Elsa to Princeton, New Jersey, USA. There they bought a house in Mercer Street 112 in August 1935. Here she also wanted to free him from the daily tasks. But she only had a short time together with her "Albertle". Elsa Einstein died after painful illness on December 20, 1936 in her house in Princeton.

Explanatory note:
Elsa's and Albert's mothers were sisters, their fathers were cousins.
Illustrations Credits:
Courtesy Hohenzollerisches Landesmuseum, Hechingen: 1